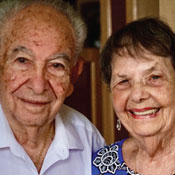 Marty and Libby Freedman
The Freedman's journey to Chabad of Deerfield Beach began over 70 years ago when they were first married in Philadelphia. Marty and Libby raised their children through hard work (Marty ran a successful printing business) and dedication to a strong Jewish identity. Now as residents of Century Village of Deerfield Beach, the Freedman's have embraced Chabad of Deerfield Beach and consider it as a whole new family. They are pleased to be honored at the Gala Dinner as this represents a celebration of friendship, love, and connection with their shul family.
Marty is well known for his sense of humor, but speaks from the heart as he describes how Rabbi Sholom Stock (father of Rebbetzin Leah Goldblatt) helped him put on tefillin for the first time and is teaching him Hebrew. Libby is an enthusiastic supporter and attendee of the various programs that Chabad of Deerfield Beach offers, and always greets everyone with a smile that comes from the heart. When asked how she faces difficult challenges, Libby picked up her Tehillim and embraced it. She also acknowledges that the loving concern and caring provided at Chabad makes a big difference.
The Freedman's appreciate the atmosphere at Chabad of Deerfield Beach because they feel that "no matter what your background, you are seen as a Jew." They are very excited at the potential of some young Jewish families moving into the new Toll Brothers community being built adjacent to Century Village and welcoming them to Chabad.
Anyone who has ever heard Libby or Marty speak at a Chabad kiddush know that they are truly dedicated to each other and celebrate their love in a very beautiful way.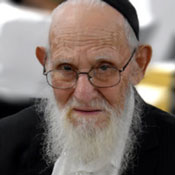 Rabbi Yitzchok Popack
In honoring Rabbi Yitzchok Popack, we are also honoring a family history that dates back to Russia where his father was a student in the Lubavitch Yeshiva. Rabbi Yitzhak Popack was brought up in Barry, Vermont, where he credits his father for creating a Chabad environment for the children to grown in. He and two brothers were sent to the Lubavitch Yeshiva at 770 Eastern Parkway in the early 1940's; they were among the very first students there. At age 20 he was sent by the Lubavitcher Rebbe to Rochester to help form a yeshiva; his next assignment was Chicago where he served as a shaliach.
In 1947 Rabbi Popack journeyed to Israel (with approval from the British) where he served as an Assistant Flight Controller for the Israeli Army. When he and his wife returned to the United States, he began a memorable 50- year career in Jewish education; he was Dean of Boys at HAFT, a beloved teacher and mentor, and served as Principal of HILI (Hebrew Institute of Long Island).
As a resident of the Century Village of Deerfield Beach, Rabbi Popack continues to serve as an inspirational role model, especially at Chabad. His patient personality, dedication, and determined spirit contribute so much to the fabric of the shul. With a smile, he describes Chabad of Deerfield Beach as a shul where people are so welcoming and terrific. He acknowledges and appreciates the unique blending of the "old and the new"- lifelong observant Jews and those discovering their Jewish roots. Rabbi Popack is especially impressed with Rabbi Goldblatt and Leah and the "unbelievable job" they are doing to build and maintain the Chabad presence in Deerfield Beach.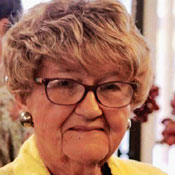 Marlene Weiss
Marlene Weiss was a natural choice to receive the Aishes Chayil (Women of Valor) Award from Chabad of Deerfield Beach. Marlene has been a resident of Century Village East since 1995. She and husband Bill of blessed memory were among the first families to join the shul when it was established in 2008. They were attracted to the meaningful davening and to the dynamic personalities of Rabbi Goldblatt and Leah, who they saw as "greeting every challenge large and small with a smile…. with a warmth that can't be duplicated". Working tirelessly all their lives for shuls and Jewish day schools came naturally to Marlene and Bill, and Chabad of Deerfield Beach has been no exception. Marlene organized several original programs for women including an Elegant Champagne Brunch and Jewelry Design Workshops.
Marlene feels that Chabad of Deerfield Beach is a second home, and is motivated by the words of Pirkei Avos (Avos 2:16) - "You are not obligated to complete the work, but neither are you free to desist from it."